Realistic drawings are becoming quite popular on art related social sites like deviantart, Instagram and pinterest. The prints of some of the art work are sold from few hundred bucks to few grands.
What are realistic drawings?
Realistic drawings are those which resembles like a photograph and in fact, it is very difficult for us to accept by look that it is a drawing. Drawing realistically is not a recent phenomenon. During the days of Kings and Queens when there were no photographs, realistic drawings of people were made. Important historical scenes are captured and painted. Scenes like wars, kings with their wives, homes, palaces were all painted and kept. If you are interested to know about these, you can visit some of the famous museums.
With the invention of photography, realistic drawing slowly faded away. Important events were captured and stored on films and later in the digital world, these images are digitized and kept. With mobile camera's in most of our hands, capturing scenes and selfies are something which is happening every moment. Recently I read somewhere that it is almost 93 Million selfies are taken per day. With photographs an artist who can draw realistically started losing his value and he was forced to move into various other forms of arts like abstract art and modern art, with themes attached to it.
As always, life takes a full circle, with too much images floating creating a sense of suffocation, art and artist are coming back to reality and realistic art drawings are back. Thither are many creative people who desire to draw realistic pictures and this has branched out into many different shapes like 3D drawings on the streets to 3d drawings on paper.
How to choose a Subject for realistic drawings?
There are many hours of days and months of practice must have gone into those artists who are creating these realistic drawing. The drawings, especially pencil drawings look really perfect but there has been huge volume of patience and dedication which was put by the artist. Dirk Dzimirsky who is referred in this article in the next para spends close to 100 to 150 hours for his pencil drawings which becomes his masterpieces. I have studied some of the realistic pencil drawings and have listed my key observations.
Chosen Subject should be Awesome

: When I say awesome subject, i mean the picture selected to be created should be something which should have lot of intricacies. The subject can be a old man or woman with lot of shrinks on the face due to old age or the subject can be again a old man who has lot of hair on his face, these if drawn well can really stand out of the ordinary. A small baby can also be a subject with excellent smile and little expressions. Someone getting out from water, of water falling on face can be a great subject.

Subject should have exceptional lights & reflections

: The subject selected should have good light and shade.   The subject with light, shade and water will form a great subject for drawing. Similarly, a transparent object like glass and the subject behind the glass can again form awesome subject.

Subject with good and different Textures

: Pencil drawing with different textures like bark of wood, water or woolen cloth if drawn well can be great for realistic drawing. An animal with good amount fur, like cats or dogs can also be an excellent subject. A transparent glass with water or dew drops on the top is also a good subject.
How to make lifelike pencil drawings?
It is quite easy to make life like paintings, but life like drawings using pencil requires good amount of practice. More than practice it also require the use of some very good tools.
Patience, Practice and Experience:
Tools and Techniques
Good subject
My Favorite hyperrealistic artists
Dirk Dzimirsky is a hyperrealistic artist from Germany. His commitment and dedication is such that, sometimes he spends close to 100 to 150 hours creating his master piece depending on the choice of his medium like oil paints, graphite pencils and acrylic paints. He depicts human beings in a somewhat dark artistic mood, revealing the vulnerability and tragedy of their status.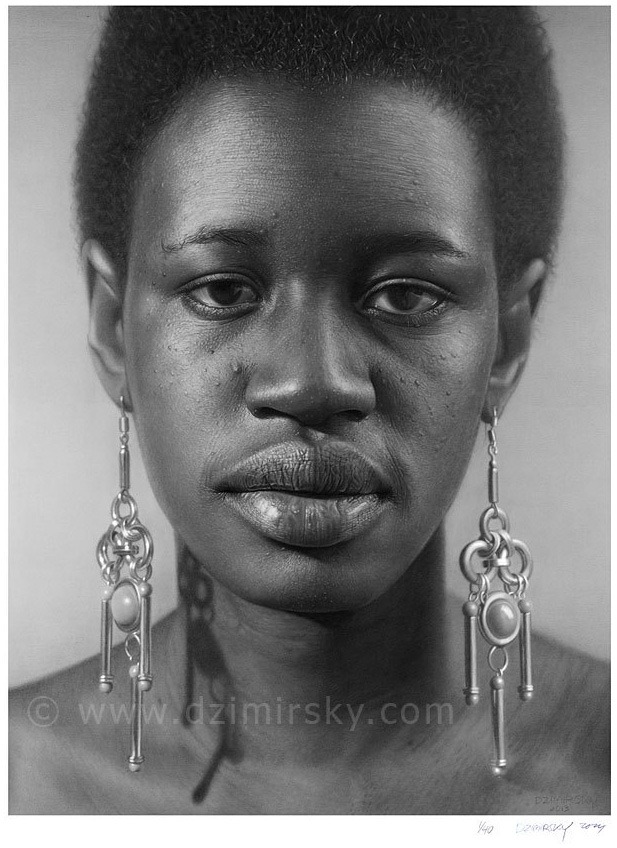 Franco Clun is an Italian Artist, and his drawings at the first instance are not photos but are drawn using pencil. He loves drawing especially graphite. The great thing about Franco Clun is that he has learned art merely by experience and reading from drawing manuals.
Lorenzana is an hyperrealistic artist who focuses and specializes on graphite and ball pen. His subjects are mostly in water. According to him, "Water and Soap are used as metaphors for the mental and emotional cleansing that is needed to remove the masks which are worn in public, in order to get in touch once again with that original and profound sense of true self."
Linda Huber has been drawing with pencil for over 40 years. She loves to recreate life and she considers working on drawing for many hours as relaxing. Her drawings have become more detailed as years passed by. She spends between 40 to 100 hours in finished some drawings. She learned drawing herself and she strives for realism in each piece of drawing.
Rajacenna is a young Dutch hyperrealistic pencil drawing artist. She is also an actor, a model and also a tv host. When she was 16 years old she started to draw without any prior knowledge or education. In 3 months her work was published in the art book Amazing Pencil Portraits 2 and later in Amazing Pencil Portraits 3. She was also one of the 400 most influencing women in Netherlands.
Where to search for Realistic Drawings?
There are lots of online sites from where you can get some good realistic drawings. However, my 3 favourite place where you can find some really good pencil drawings are listed below.
Few interesting Blogs which shows good collection of Realistic drawings.
These drawings are of high resolution and are created using pencil, charcoals or ball pens. Realistic drawings in future are likely to become even more popular.